Info from the League of Women Voters...
Amendment 1 - Water and Land Conservation
Funds the Land Acquisition Trust Fund to acquire, restore, improve, and manage conservation lands including wetlands and forests; fish and wildlife habitat; lands protecting water resources and drinking water sources, including the Everglades, and the water quality of rivers, lakes, and streams; beaches and shores; outdoor recreational lands; working farms and ranches; and historic or geologic sites, by dedicating 33 percent of net revenues from the existing excise tax on documents for 20 years.
Background: Amendment 1 requires 33% of the net revenue collected from the documentary stamp tax (applied primarily to real estate transactions) to go toward the Land Acquisition Trust Fund. This fund was established in 1963 with the goal of purchasing land for parks and recreational purposes. Currently, the legislature has the authority to determine how much funding the Land Acquisition Trust Fund receives on a year-to-year basis. The Financial Impact Estimating Conference reports that the amount of state revenue that would go to the Land Acquisition Trust Fund under Amendment 1 is $648 million during Fiscal Year 2015-16 and could grow to $1.268 billion by Fiscal Year 2034-35, when the amendment would expire. Since 1998, voters in 24 states have approved 79 laws creating $28 billion in new funds for land conservation. Voters in 11 states have placed funding for water and land conservation and management in their state Constitutions.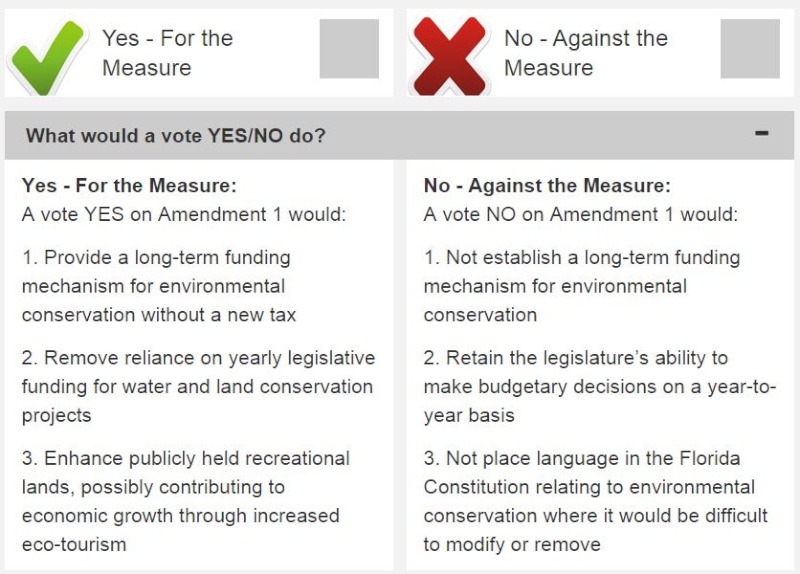 ---
---
Amendment 2 - Use of Marijuana for Certain Medical Conditions
Allows the medical use of marijuana for individuals with debilitating diseases as determined by a licensed Florida physician. Allows caregivers to assist patients' medical use of marijuana. The Department of Health shall register and regulate centers that produce and distribute marijuana for medical purposes and shall issue identification cards to patients and caregivers. Applies only to Florida law. Does not authorize violations of federal law or any non-medical use, possession or production of marijuana.
Background: Amendment 2 allows individuals with debilitating diseases, as determined by a licensed Florida physician, to purchase and use medical marijuana. During the 2014 session, the state of Florida passed legislation to allow for the medical use of "Charlotte's Web," a strain of non-psychoactive cannabis. Amendment 2 would legalize all forms of marijuana for medical use but states that no insurance company or government agency can be required to cover its cost. Additionally, the amendment prohibits the operation of a car or boat while under the influence of marijuana and allows workplaces, schools and public spaces to ban marijuana from their facilities. Currently, 23 states and the District of Columbia have laws allowing for the use of medical marijuana.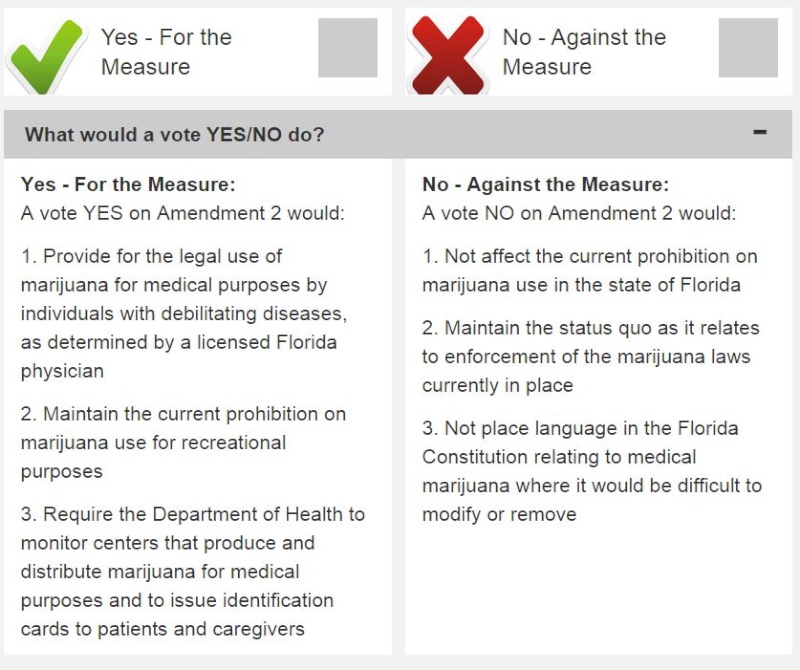 ---
---
Amendment 3 - Prospective Appointments of Certain Judicial Vacancies
Proposing an amendment to the State Constitution requiring the Governor to prospectively fill vacancies in a judicial office to which election for retention applies resulting from the justice's or judge's reaching the mandatory retirement age or failure to qualify for a retention election; and allowing prospective appointments if a justice or judge is not retained at an election. Currently, the Governor may not fill an expected vacancy until the current justice's or judge's term expires.
Background: Amendment 3 would require a governor to prospectively fill vacancies on the Florida Supreme Court or a district court of appeal when a justice or judge: (1) reaches the mandatory retirement age of 70, (2) fails to qualify for a retention election, or (3) fails to secure a majority of votes during his or her retention election. Since 2001, the 26 Judicial Nominating Commissions (JNCs) for the Florida Supreme Court, district courts of appeal and trial courts have been comprised solely of gubernatorial appointees (9 per JNC) who serve four-year terms, from July to July. In 2006, the Florida Supreme Court ruled that JNCs could begin their interviewing and nominating process prior to a judicial vacancy occurring, but an appointment could not be made until after the justice's or judge's term actually expired. Because it is possible for a justice's or judge's term to end on the same day that a new governor takes office, the Florida Supreme Court's 2006 opinion can be read as authorizing the newly sworn-in governor to fill those vacancies. All judicial appointments must be made from a list of judicial applicants screened by the appropriate JNC. The governor must select a nominee from that list – he or she is not allowed to reject the entire list and request a new slate of JNC nominees. In a situation in which a judicial vacancy is created on the first day of a new governor's term, Amendment 3 would authorize the outgoing governor – rather than the newly elected governor – to appoint the successor judge or justice.