If you've ever wondered what it takes for a city to win a Super Bowl—outside of a relatively new stadium—the NFL's demands have been leaked for your perusal. To sum it up, the Shield wants a ridiculous amount of no-cost shit.
Last month, Minneapolis won Super Bowl LII, which will take place three years after the new Vikings Stadium is scheduled to be completed. The Star Tribune acquired the NFL's 153-page checklist for potential Super Bowl host cities and man, will they be footing the bill for a hell of a lot.
A few things that the NFL wants for free:
-At least 20 billboards in the Twin Cities to advertise the Super Bowl
-Four "top quality" golf courses and two "top quality" bowling lanes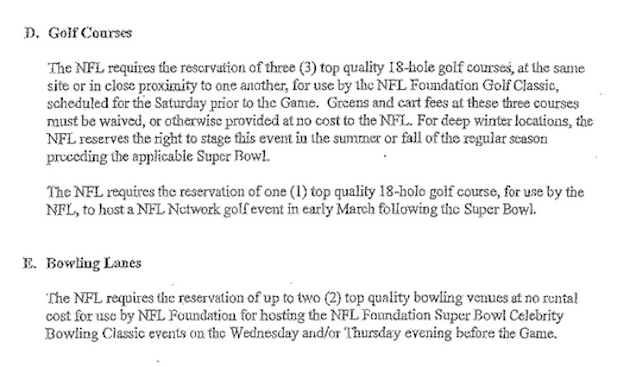 -Local police officers to crack down on counterfeit tickets and merchandise
-Portable cellular towers at team hotels, if cellphone signal strength isn't acceptable
-At least 20 color pages of advertising in daily newspapers
-Four weeks of advertising on at least six radio stations
-ATMs inside the stadium that take NFL-preferred credit and debit cards, and the removal of ATMs which don't
The league also wants full exemption from state, county, and city taxes. Surprise!

_________________
Ideas are funny little things, they won't work unless you do.